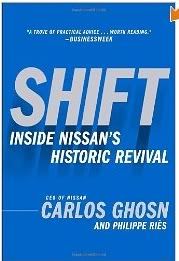 The best book of Carlos Ghosn, CEO of Nissan Automobile , carreer before and during Nissan's Turnaround.
Editorial Reviews
From Publishers Weekly
When French auto manufacturer Renault acquired Nissan, they sent Ghosn to engineer the failing company's turnaround, and in short order, interviews and pictures of him were everywhere. The story behind his success is familiar to any reader of business publications, but he gives it here again, along with an extensive recitation of the business strategy that put the failing company back in black. Those who haven't heard the continent-hopping tale of Ghosn's family will be fascinated by the first few chapters, in which he talks about his Lebanese grandfather, who went to Brazil to make his fortune, and reminisces about his own childhood in Brazil and Lebanon. Though some readers may yearn for more details about Ghosn's childhood and his days attending university in Paris, Ghosn is all business. Indeed, his background information seems to have been included largely to establish him as a creature of globalization. The bulk of the book follows his progress at Nissan in dry terms, with short, declarative sentences moving the story efficiently but mechanically. Ghosn sprinkles in occasional passages about his business philosophy, briefly analyzing why Nissan went downhill under the traditional Japanese system and expounding on the necessity of communication, dedication and never hesitating. Nissan's resurgence was doubtless a relief for its shareholders and employees (at least the ones who survived Ghosn's downsizing), but there isn't likely to be a large readership for what, by the end, feels less like a book and more like a company's annual report, complete with history, statistics and vision for the future.
Copyright © Reed Business Information, a division of Reed Elsevier Inc. All rights reserved. --This text refers to the Hardcover edition.

From Booklist
In Turnaround (2003), David Magee profiled the dramatic comeback of Nissan Corporation under the leadership of international businessman Carlos Ghosn. Here Ghosn relates the story in his own words, first sharing some of his family background and previous experience in the auto industry working at Michelin and at Renault, where he earned a reputation as "le cost killer." Ghosn was chosen by Renault as the only possible candidate to implement the changes necessary to revitalize Nissan, which was suffering under a decade of decline and unprofitability. The Renault alliance with Nissan injected desperately needed cash and revolutionized the stagnated culture at the Japanese company. Although Nissan had technologically superior products, Ghosn found there was a distinct absence of vision and leadership. His Nissan Revival Plan would become a highly successful cultural intersection that created the most dramatic turnaround in automotive history. Ghosn's rapidly paced narrative concludes with his hopes for the future of Nissan, penetrating new segments of the market in SUVs, pickups, and hybrids, along with a much-hoped-for entrance into the Chinese market. David Siegfried
Copyright © American Library Association. All rights reserved --This text refers to the Hardcover edition.